BARBER-WILLIAM
WILLIAM EARL BARBER

Rate/Rank
COL

SIGNIFICANT DUTY STATIONS
CO, COMPANY F, 2ND BATTALION, 7TH MARINES, 1ST DIV - CHOSIN RESERVOIR, KOREA
26TH MARINE REGT, 5TH MARDIV - IWO JIMA
CO, 3RD RECON BN
III MARINE AMPHIBIOUS FORCE, MACV
SIGNIFICANT AWARDS
LEGION OF MERIT W/ COMBAT V
PRESIDENTIAL UNIT CITATION (2)
NATIONAL DEFENSE SERVICE MEDAL
REPUBLIC OF KOREA PRESIDENTIAL UNIT CITATION
UNITED NATIONS SERVICE MEDAL
SERVICE MEMORIES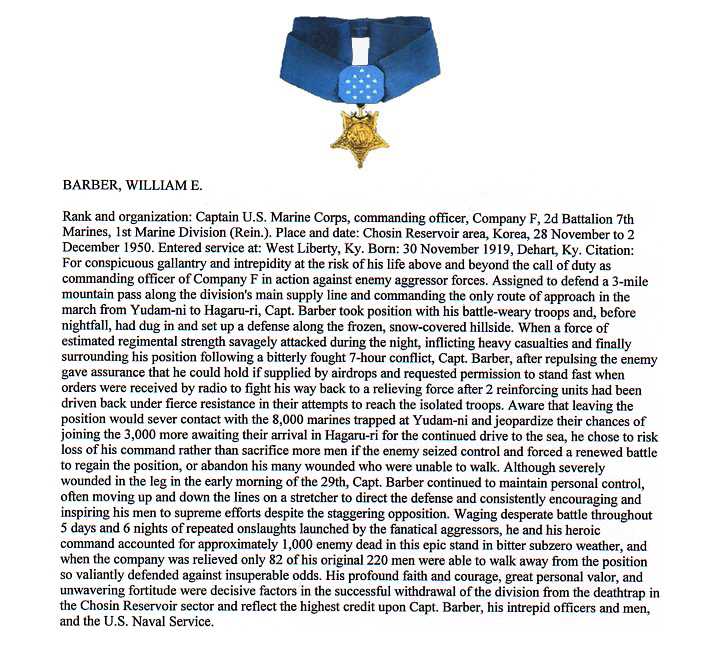 AWARDED MEDAL OF HONOR
William Earl Barber was born on November 30, 1919, in Dehart, Kentucky. He completed Morgan County High School in West Liberty, Kentucky, and attended Morehead State Teachers College prior to enlisting in the Marine Corps in March 1940. He completed his recruit training at Marine Corps Recruit Depot Parris Island, South Carolina, followed by parachute training at the Naval Air Station, Lakehurst, New Jersey, was designated a paramarine and assigned as a parachute instructor at the newly activated Parachute Training School at New River, North Carolina. In May 1943 he entered Officer Candidates School at Marine Corps Base Quantico, Virginia, and was commissioned a Second Lieutenant on August 11, 1943. Barber served with the 1st Parachute Regiment on the West Coast until 1944. Assigned as a Platoon Commander with the 26th Marine Regiment, 5th Marine Division at Marine Corps Base Camp Pendleton, California, he embarked for the Pacific area and later took part in the Battle of Iwo Jima. After being wounded he was evacuated and later returned to his unit, serving as Company Commander during the last two weeks of the operation. Shortly after he was promoted to First Lieutenant and again commanded the company during the initial occupation of Japan. He was awarded the Silver Star and the Purple Heart for his actions on Iwo Jima in which "he disregarded his own wounds and directed enemy fire to rescue two wounded Marines from enemy territory." Barber returned to the United States in 1946, served on recruiting duty in Milwaukee, Wisconsin, served as a rifle Company Commander with the 8th Marines, 2nd Marine Division at Marine Corps Base Camp Lejeune, North Carolina; Inspector-Instructor of the Marine Corps Reserve Company D, 6th Infantry Battalion, in Altoona and Philadelphia, respectively.
In October 1950, as a Captain, Barber was ordered to Korea and took part in the action for which he was awarded the Medal of Honor and the Purple Heart — the Battle of Chosin Reservoir in November and December 1950. He led his company in a desperate five-day defense of a frozen mountain pass vital to the 1st Marine Division's breakout to the sea. Fighting in sub-zero temperatures against overwhelming odds, he was wounded on the first night of the action (November 29, 1950), but refused evacuation and remained in action in command of his company. He was evacuated on December 8, and hospitalized at the United States Fleet Activities Yokosuka, Japan, until his return to the United States in March 1951. In April 1951 he joined Marine Corps Recruit Depot San Diego as a Company Commander and later Executive Officer of the 1st Recruit Training Battalion. He was promoted to Major in July 1952. On August 20, 1952, Major Barber was presented the Medal of Honor by President Truman in ceremonies at the White House.
Major Barber completed the Advanced Infantry Course, Fort Benning, Georgia, in March 1954, then served as Operations and Training Officer, 2nd Battalion 2nd Marines at MCB Camp Lejeune. From 1956 to 1958, he served in Thailand as Assistant Naval Attache and Assistant Naval Attache for Air at the American Embassy in Bangkok. During the next four years he was assigned to Marine Corps Schools at MCB Quantico, and served as Assistant Chief Instructor of the Junior School. While there he was promoted to Lieutenant Colonel in April 1960. Again ordered overseas, LTCOL Barber joined the 3rd Marine Division on Okinawa, Japan, in July 1962 as Commanding Officer of 3rd Reconnaissance Battalion. Following his return to the United States he served at Headquarters Marine Corps as Head, Combat Requirements Section, until January 1966 when he became Head, Marksmanship Branch, G-3 Division, and served in this capacity until July 1967. He was promoted to Colonel on September 22, 1965. Transferred to the 2nd Marines, 2nd Marine Division, Marine Corps Base, Camp Lejeune, North Carolina, COL Barber served consecutively as Division Plans Officer, Assistant Chief of Staff, G-2 (Intelligence), and Commanding Officer of the 2nd Marines, until May 1969.
In 1969, he was ordered to Vietnam where he served his last tour of active duty as Psychological Operations Officer, III Marine Amphibious Force, Military Assistance Command, Vietnam. For his service in this capacity, he was awarded the Legion of Merit with Combat "V." COL Barber retired from active duty on May 1, 1970. He then returned to Morehead University and completed his degree upon completion of which he became a civilian military analyst for the Northrop Corporations. Barber died at his home in Irvine, California, on April 19, 2002, of bone marrow cancer and he was buried with full military honors at Arlington National Cemetery. His wife Ione died four years later and her ashes were interred in his grave.
Awards & Medals
Medal of Honor
Silver Star
Legion of Merit w/valor device
Purple Heart (2)
Navy Presidential Unit Citation w/1 service star
USMC Good Conduct Medal
American Defense Service Medal
American Campaign Medal
Asiatic-Pacific Campaign Medal w/1 service star
World War II Victory Medal
Army of Occupation Medal
National Defense Service Medal
Korean Service Medal w/3 service stars
Vietnam Service Medal w/1 service star
Korean Presidential Unit Citation
United Nations Korea Medal
Vietnam Campaign Medal
Submitted by CDR Roy A. Mosteller, USNR (Ret)