DAY-JAMES
JAMES LEWIS DAY

Rate/Rank
MAJGEN

SIGNIFICANT DUTY STATIONS
2ND BATTALION, 22ND MARINES, 6TH MARINE DIVISION,OKINAWA SHIMA
OFFICER, MARINE BASIC, QUANTICO, VA
COMP C, 1ST BN, 7TH MARINES, KOREA
NMCRC CUMBERLAND, PA/VARIOUS BILLETS
4 TOURS VIETNAM/VARIOUS BILLETS
DEPUTY COMMANDER, MARINE CORP BASED PACIFIC
SIGNIFICANT AWARDS
NAVY DISTINGUISHED SERVICE MEDAL
DEFENSE SUPERIOR SERVICE MEDAL
SERVICE MEMORIES
PRESENTED THE MEDAL OF HONOR MORE THAN
HALF A CENTURY AFTER IT WAS EARNED
James Lewis Day was born October 5, 1925, in St. Louis, Illinois. He joined the Marine Corps in 1943 during World War II, and saw combat in both Guam and the Marshall Islands before finding himself in combat in May 1945 on Okinawa where he had action in an area that Americans called Sugar Loaf. Most of the Marines defending Sugar Loaf were killed and took cover in foxholes using grenades and machine guns to repel waves of Japanese, some of whom came within only a few feet of their position. Day fought mostly alone as most of his squad mates had been killed or wounded. By the end of the action May's foxhole was surrounded by the bodies of over 100 dead Japanese soldiers and Day was recommended for a Medal of Honor for his actions at Sugar Loaf.
As most of the surviving witnesses to the battle were killed soon afterward, including the battalion commander and the paperwork for Day's recommendation was lost, Day chose not to pursue the matter. He remained in the Marine Corps and later fought in both the Korean and Vietnam wars. In 1980, a retired Marine discovered carbon copies of Day's Medal of Honor recommendation among his wartime possessions. The paperwork was resubmitted but progressed slowly through the approval process. Not until January 20, 1998, shortly before Day's death, was he finally presented the Medal of Honor by President Bill Clinton who remarked, "Now, for his extraordinary valor, we recognize James L. Day as one of the bravest of the brave. In words that echo from the peaks of American military history, he has distinguished himself, at the risk of his life, above and beyond the call of duty".
James Day was a corporal at the time of his action at Sugar Loaf. In recognition of his abilities, he was commissioned in September 1952. He continued to serve in a variety of assignments until his retirement in December 1986 with the rank of Major General after a career of 43-years in the Marine Corps. He died on October 28, 1998, and is interred at Fort Rosecrans National Cemetery in San Diego, California.
MEDAL OF HONOR CITATION
The President of the United States of America, in the name of Congress, takes pleasure in presenting the Medal of Honor to Corporal James Lewis Day (MCSN: 56003), United States Marine Corps, for conspicuous gallantry and intrepidity at the risk of his life above and beyond the call of duty as a Squad Leader serving with the Second Battalion, Twenty-Second Marines, SIXTH Marine Division, in sustained combat operations against Japanese forces on Okinawa, Ryukyu Islands from 14 to 17 May 1945. On the first day, Corporal Day rallied his squad and the remnants of another unit and led them to a critical position forward of the front lines of Sugar Loaf Hill. Soon thereafter, they came under an intense mortar and artillery barrage that was quickly followed by a ferocious ground attack by some forty Japanese soldiers. Despite the loss of one-half of his men, Corporal Day remained at the forefront, shouting encouragement, hurling hand grenades, and directing deadly fire, thereby repelling the determined enemy. Reinforced by six men, he led his squad in repelling three fierce night attacks but suffered five additional Marines killed and one wounded, whom he assisted to safety. Upon hearing nearby calls for corpsman assistance, Corporal Day braved heavy enemy fire to escort four seriously wounded Marines, one at a time, to safety. Corporal Day then manned a light machine gun, assisted by a wounded Marine, and halted another night attack. In the ferocious action, his machine gun was destroyed, and he suffered multiple white phosphorous and fragmentation wounds. He reorganized his defensive position in time to halt a fifth enemy attack with devastating small arms fire. On three separate occasions, Japanese soldiers closed to within a few feet of his foxhole, but were killed by Corporal Day. During the second day, the enemy conducted numerous unsuccessful swarming attacks against his exposed position. When the attacks momentarily subsided, over 70 dead enemy were counted around his position. On the third day, a wounded and exhausted Corporal Day repulsed the enemy's final attack, killing a dozen enemy soldiers at close range. Having yielded no ground and with more than 100 enemy dead around his position, Corporal Day preserved the lives of his fellow Marines and made a significant contribution to the success of the Okinawa campaign. By his extraordinary heroism, repeated acts of valor, and quintessential battlefield leadership, Corporal Day inspired the efforts of his outnumbered Marines to defeat a much larger enemy force, reflecting great credit upon himself and upholding the highest traditions of the Marine Corps and the United States Naval Service.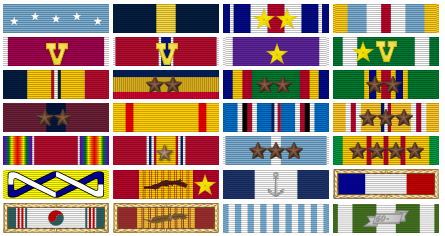 Submitted by CDR Roy A. Mosteller, USNR (Ret)