GALER-ROBERT
ROBERT EDWARD GALER

Rate/Rank
BGEN

SIGNIFICANT DUTY STATIONS
1ST MARINE AIRCRAFT WING
MARINE AIR GROUP MAG-12
FLEET MARINE FORCE-PACIFIC
MARINE SQUADRON VMF-24
CO, MARINE FIGHTER SQUADRON 244 VMF-244
MARINE FIGHTING SQUADRON VMF-2, VMF -211
SIGNIFICANT AWARDS
LEGION OF MERIT W/VALOR DEVICE
DISTINGUISHED FLYING CROSS (2)
PRESIDENTIAL UNIT CITATION
AMERICAN DEFENSE SERVICE MEDAL
ASIATIC-PACIFIC CAMPAIGN MEDAL
WORLD WAR II VICTORY MEDAL
NATIONAL DEFENSE SERVICE MEDAL
SERVICE MEMORIES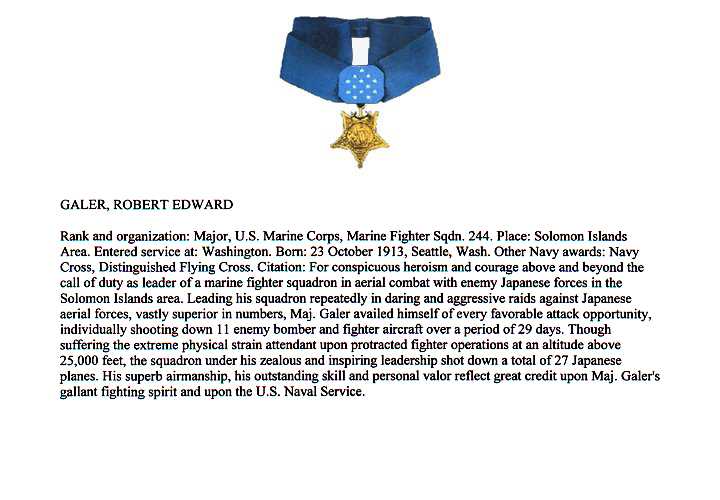 SOURCE: Article published in San Diego Union-Tribune on 5/31/2015:
BRAVERY IN BATTLE - THE MEDAL OF HONOR
For 29 days in September 1942, Galer's squadron was up against Japanese bombers and fighter escorts that were sent to hit the Americans at Guadalcanal each day. Galer was serving as a Major in command of Marine Fighter Squadron 244, and though they were outnumbered by the opposition, he had a plan. Every day Galer and his men were in slower less-agile planes than the Zeros the Japanese were flying but Australian coast watchers would radio information about enemy takeoffs each day giving the Americans an advantage. The Marines had figured out that the best strategy was to target the lead Japanese bomber because the planes behind it would drop bombs and fly away if that bomber went down. The Americans had a lot of losses between pilots blacking out at too-high altitudes or taking hits in their slower, heavier planes after a dive. Still, Galer's squadron shot down 27 Japanese planes and he was credited with 11 of those. He was also shot down three times during World War II. Galer was presented with the Medal of Honor on March 24, 1943, by President Franklin D. Roosevelt. Later, during the Korean War, he was shot down and landed 100 miles behind enemy lines. He was rescued by a Navy helicopter. In subsequent missions after World War II, Galer earned more awards, including the Distinguished Flying Cross, Purple Heart, and the British Distinguished Flying Cross. He was promoted to Brigadier General and worked on guided-missile development before retiring in 1957. Galer died on June 27, 2005, at age 91 and is buried at the Texas State Cemetery inh Austin, Texas.
Submitted by CDR Roy A. Mosteller, USNR (Ret)