HALFORD-WILLIAM
WILLIAM HALFORD

Rate/Rank
LT

SIGNIFICANT DUTY STATIONS
USS SAGINAW (Side Wheel Steamer)
USS BENICIA (Screw Sloop)
USS LACKAWANNA (Screw Sloop-Of-War)
USS SAN FRANCISCO (C-5)
USS MONTEREY (BM-6)
SIGNIFICANT AWARDS
WORLD WAR I VICTORY MEDAL
SERVICE MEMORIES
MEDAL OF HONOR RECIPIENT
William Halford was born August 18, 1841, in Gloucester, England, and on February 8, 1872, was awarded a Navy Peacetime Medal of Honor. He was a coxswain serving on the USS Saginaw, a Civil War era side wheel steamer which in 1870 was sent to survey and deepen the entrance to the lagoon at Midway Island. Following the assignment, Saginaw proceeded to Kure Atoll northwest of Hawaii, a ring of coral encircling a lagoon and an island no more than 20 feet high, located 1,700 miles from the Aleutians, 3,200 miles from California, 2,400 miles from Japan, and 1,500 miles from Oahu. Unfortunately, On October 29, 1870, Saginaw became shipwrecked there and with no hope of rescue, five crewmembers volunteered to convert the captains gig into a sailboat and sail it to obtain rescue for the 87 ship's crew that remained. Coxswain Halford was one of the volunteers.
The men endured three gale-force Pacific storms with winds exceeding 40 knots, waves of more than 18 feet, and 1,500 miles at sea in a small boat, but their rations spoiled leaving them weak, sick, and near starvation. After 31-days the small boat reached Kauai and the boat overturned in the large surf as they attempted to land. Unfortunately, Halford was the only survivor and although he suffered a crushed knee, he made it ashore and was able to engage a small schooner to take him to Honolulu where he reported the wreck of the Saginaw. Hawaiian King Kamehameha V dispatched his steamer to rescue the marooned sailors and it arrived at Kure on January 3, 1871. The wreck of the Saginaw and the saga of its crew's rescue was widely reported at the time, Halford became a national hero, he was promoted to the rank of Acting Gunner, and he was awarded the Medal of Honor.
On April 14, 1871, Halford was promoted to the warrant officer rank of Gunner and to Chief Gunner on March 3, 1899. He served in the Navy until August 18, 1903, when he reached the mandatory retirement age of 62 and was retired after 34-years of active service. When the First World War began, Halford was recalled to active duty on July 1, 1918, promoted to Lieutenant, and served until his death on February 17, 1919, at Oakland, California. He was buried at the Mare Island Navy Cemetery in Vallejo, California, in Section C, Row 7, Plot 371.
The USS Halford (DD-480) was named in his honor.
MEDAL OF HONOR CITATION
The President of the United States of America, in the name of Congress, takes pleasure in presenting the Medal of Honor to Coxswain William Halford, United States Navy, for gallant and heroic conduct in line of his profession as Coxswain serving on the USS Saginaw. Coxswain Halford was sole survivor of the boat's crew sent to the Sandwich Islands for assistance after the wreck of the Saginaw, 1 October 1870. Promoted to Acting Gunner.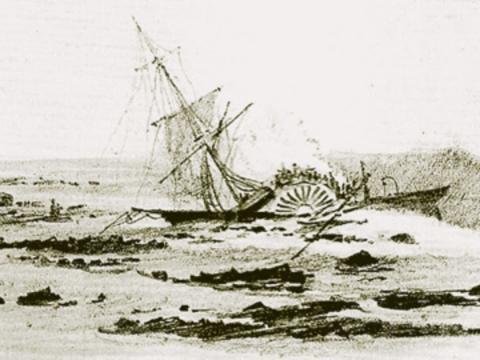 PAINTING OF WRECK OF USS SAGINAW
Submitted by CDR Roy A. Mosteller, USNR (Ret)