HUDNER-THOMAS
THOMAS JEROME "TOM" HUDNER JR.

Rate/Rank
CAPT

LONE SAILOR AWARD RECIPIENT 1999
USS THOMAS HUDNER DDG-116 NAMED IN HIS HONOR
SIGNIFICANT DUTY STATIONS
FIGHTER SQUADRON 32, USS LEYTE CV-32
LEADERSHIP TRAINING OFFICER, COMNAVAIRPAC STAFF
CO, TRAINING SQUADRON VT-24
XO, USS KITTY HAWK CV-63
HEAD, AVIATION TECHNICAL TRAINING, OFFICE OF CNO
SIGNIFICANT AWARDS
NAVY MARINE CORPS COMMENDATION MEDAL
NAVY PRESIDENTIAL UNIT CITATION
WORLD WAR II VICTORY MEDAL
NAVY OCCUPATION SERVICE MEDAL
NATIONAL DEFENSE SERVICE MEDAL
KOREAN PRESIDENTIAL UNIT CITATIONS
REPUBLIC OF VIETNAM GALANTRY CROSS MEDAL
UNITED NATIONS KOREAN SERVICE MEDAL
REPUBLIC OF VIETNAM CAMPAIGN MEDAL
SERVICE MEMORIES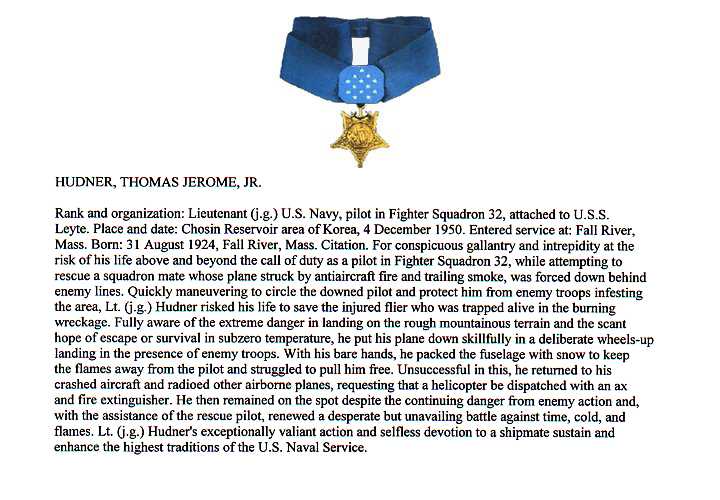 For Korea Veteran, One Last Mission
Decorated pilot, 88, seeks comrade's remains
By Bryan Bender, Globe Staff
WASHINGTON -- In the decades since returning home to Massachusetts from the Korean War, Thomas J. Hudner Jr. has been haunted by what he left behind.
The former fighter pilot risked his life, and won the nation's highest medal for valor, by crash-landing his own plane and attempting to save his downed wing man, Jesse L. Brown. But he was unable to pull Brown from the burning wreckage before Chinese troops closed in.
Now, 60 years after the war, Hudner, frail at 88 but determined as ever, is making one final attempt to give his friend a long overdue homecoming, setting out to find Brown's remains and bring them home.
It is the final chapter in a saga that is about not only loyalty, but about race. Hudner is white, and Brown was African-American.
Their story is credited with advancing equality in the military, which had been integrated just two years earlier. Hudner's efforts to save Brown helped put to rest lingering doubts that whites would risk it all for their black comrades in the heat of battle.
Hudner is set to arrive Friday in North Korea to examine the purported wreckage of the F-4U Corsair in the rugged mountains where Brown, the Navy's first African-American aviator, is believed to have died.
It will be an unprecedented expedition, stage-managed by the notoriously propagandist Communist regime. Hudner, who deliberately crash-landed in the snow after seeing Brown waving through billowing smoke, "has regretted the fact that Jesse Brown was never recovered," according to an overview of the mission shared with the Globe: "He dreams about traveling to the Democratic Republic of Korea and visiting the wreckage of Brown's Corsair, to pay his respects to his fallen comrade and search for any trace of his remains."
For Brown's widow and childhood sweetheart, Daisy Brown Thorne, 86, the news of the expedition came as a shock before the stirring implications, after these many years, sunk in.
"At first I don't know what my reaction was," she said in a phone interview from her home in Hattiesburg, Miss. "Then I was really happy that he wanted to go and happy that he is going to get a chance to go back. Whatever the success is, it will bring some closure."
She cannot help but think, if they find any trace of her husband, she will finally have the chance to lay him to rest.
"I've thought about a lot of things," she said, her voice breaking. "He was the love of my life. And if they find him, bring him home, I am going to have a military burial."
The details of the search have been kept confidential for fear that advance publicity might upset the increasingly isolated North Korean regime, which does not have diplomatic relations with the United States. Pyongyang has provided only rare and limited access to US military investigators seeking to learn the fate of nearly 8,000 US soldiers unaccounted for from the three-year conflict.
A key figure in Hudner's return is Chayon Kim, one of the organizers of the Korean War Memorial in Washington, who has close ties to North Korean leaders and recently helped arrange a visit by former NBA star Dennis Rodman.
While Hudner's family members say they are supportive, they have expressed concern that he and his story could be used as a propaganda tool. His son, Thomas Hudner III of Concord, warned his father that North Korea could create a "circus-like" atmosphere like that of Rodman's trip.
"The last thing I would want to have is his reputation tarnished," the younger Hudner said. "That would be another tragedy." He also worries about his father's health and safety in such a remote area, as does Hudner's wife, Georgea.
"I was thinking it might be a hard trip for him; you know he'll be 89 this year," Georgea Hudner said in an interview from the couple's home in Concord, describing a mixture of puzzlement, worry, and high hopes. "This could only be positive PR for" North Korea.
But Thomas Hudner III said his father, a career Navy officer who also fought in Vietnam and served as commissioner of the Massachusetts Department of Veterans Affairs, told them he had assurances that the trip would not be exploited by the North Koreans.
The expedition team includes Justin Taylan, a military researcher and founder of the nonprofit PacificWrecks.org; Hudner's biographer, Adam Makos, who first approached him about making the trip; and a friend of Hudner's, Richard Bonelli, who was a 19-year-old machine gunner in the Battle of Chosin Reservoir, where Hudner and Brown were providing air cover for UN troops.
The 17-day battle was an early turning point in the Korean War, and not a good one for the United States. It took place in late November and December 1950, when US and allied forces were surrounded by a larger force of Chinese troops, who entered the conflict on the side of North Korea.
In sub-zero temperatures and heavy snow, the United States suffered more than 1,000 dead, nearly 5,000 missing, and 4,500 wounded, according to official tallies. Another 7,000 fell victim to the cold and had to be evacuated.
On Dec. 4, Hudner and Brown took off on another of their many missions from the deck of the USS Leyte to provide air cover for ground troops. Brown, who had battled abject poverty and a racist military establishment before taking on the Communists, went down in 18 inches of snow under heavy fire.
Hudner circled around and, seeing Brown trapped, "put his plane down skillfully in a deliberate wheels-up landing in the presence of enemy troops ... in a desperate but unavailing battle against time, cold, and flames," as the Medal of Honor citation he received described.
Hudner scooped snow to try to put out the flames and clung to the side of Brown's cockpit, relaying words of encouragement to his dying comrade as they waited for a rescue helicopter. But as night fell and the enemy closed in, Hudner was forced to abandon Brown. The alternative was to be captured, killed, or freeze to death.
The dramatic story was quickly printed and broadcast across the country. On April 13, 1951, with Daisy Brown at his side, Hudner was awarded the Medal of Honor by President Harry S. Truman.
But it was not simply his heroism that explained why Hudner's exploits became legend. It was what it proved about the ability of whites and blacks to fight together, equally, side by side. Hudner received hundreds of letters, especially from African-Americans, thanking him for showing that race did not matter.
Last year, the Navy bestowed a rare honor on Hudner by naming a warship after him.
Now, more than six decades after his heroic rescue attempt, the search team believes they have identified the location where Brown's Corsair crashed and the cockpit split in two. Relying on the historical record, information from the North Korean government, and satellite images of the area, they also think they know where Hudner's plane lies, nearby.
"I just hope they find it and it all turns out well," said Hudner's wife. "I hope they can bring something back of [Brown] to his family."
For Daisy Brown, what Hudner is doing reminds her of her beloved Jesse, whose last words to his fellow pilot reportedly were a request to tell Daisy he loved her.
"He was a person whom, once he made up his mind, there was no stopping," Daisy Brown said, "no matter how rough the road got."