HUTCHINS-JOHNNIE
JOHNNIE DAVID HUTCHINS

Rate/Rank
S1

KILLED IN ACTION - LAE, NEW GUINEA, 09/04/1943
SIGNIFICANT DUTY STATIONS
SIGNIFICANT AWARDS
ASIATIC-PACIFIC CAMPAIGN MEDAL
SERVICE MEMORIES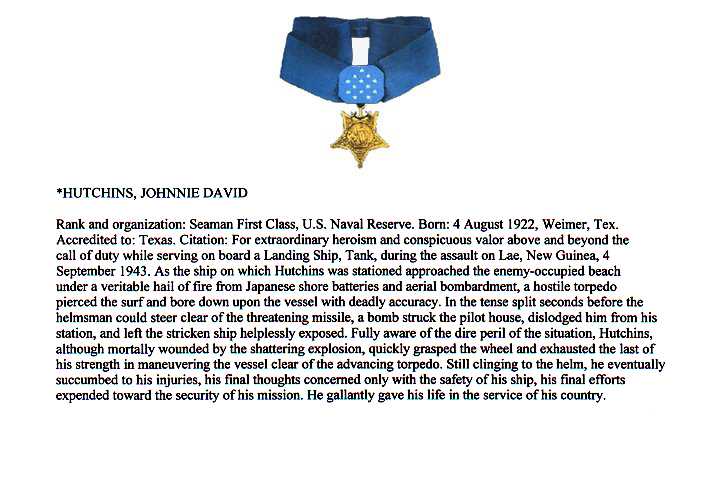 In the summer of 1943, General Douglas MacArthur, commander of Allied forces in the Southwest Pacific, began to "leap-from" up the eastern coast of New Guinea. MacArthur envisioned driving up the Solomon Islands and New Guinea into the Philippine Islands. With the capture of the Philippines, Japan would be cut off from its vital sources of raw materials and the Allies could use the Philippines as a staging area for an invasion of the Japanese homeland.
Although the Japanese had a significant number of troops stationed along the eastern coast of New Guinea, those forces had become almost totally isolated in the wake of the Japanese defeat at the Battle of the Bismarck Sea in March. Despite that defeat, an Allied advance up the coast by foot would have been very costly in terms of casualties and time since those troops were still an effective fighting force. Rather than directly confronting Japanese strongholds, MacArthur decided to "leap-frog" around them, leaving them isolated and thus neutralized. These "leap-frog" movements were usually shore-to-shore movements using LSTs, which were just becoming available in large numbers in the Pacific.
The first such "leap-frog" operation was conducted against Lae, New Guinea, in September 1943. VII Amphibious Force was tasked with landing the 9th Australian Division east of Lae. This operation, which was VII Amphibious Force's first amphibious operation, was crucially important to MacArthur since failure might have discredited his "leap-frogging" campaign. Despite its importance, the operation was very risky. Not only was it going to be executed without air cover or prolonged naval bombardment, it was also the Australian military's first amphibious operation since the disasterous Gallipoli campaign in 1915.
Fortunately, the assault went off smoothly. Over 8,000 men and 1,500 tons of supplies were offloaded in less than four hours, assault force casualties were light, and the Australians advanced quickly toward Lae. Although they were taken by surprise, the Japanese responded with vigor, attacking VII Amphibious Force's ships with 12 torpedo planes and 15 dive bombers. This air strike caught six of VII Amphibious Force's LSTs and four destroyers on their way to reinforce the Australian assault force. Although the destroyers managed to shoot down two Japanese aircraft, two LSTs, including LST-473, were damaged by the Japanese attack.
During the air attack, a Japanese torpedo bomber launched two torpedoes toward LST-473. Before the helmsman could react and maneuver the ship clear, two bomb hit the upper deck and the pilot house was engulfed in flames. Although mortally wounded by the Japanese bombs, SN1 Hutchins sized up the situation, grabbed the helm, and steered the ship past the torpedoes. He died clinging to the help, giving his last ounce of strength to save his shipmates. Hutchins was the first member of VII Amphibious Force to receive a Medal of Honor.
- taken from Honor, Courage and Commitment: United States Naval Reserve Medal of Honor Recipients, Naval Historical Center