JONES-HERBERT
HERBERT CHARPIOT JONES

Rate/Rank
ENS

KILLED IN ACTION - JAPANESE ATTACK ON PEARL HARBOR, 12/07/1941
SIGNIFICANT DUTY STATIONS
SIGNIFICANT AWARDS
AMERICAN DEFENSE SERVICE MEDAL
ASIATIC-PACIFIC CAMPAIGN MEDAL
SERVICE MEMORIES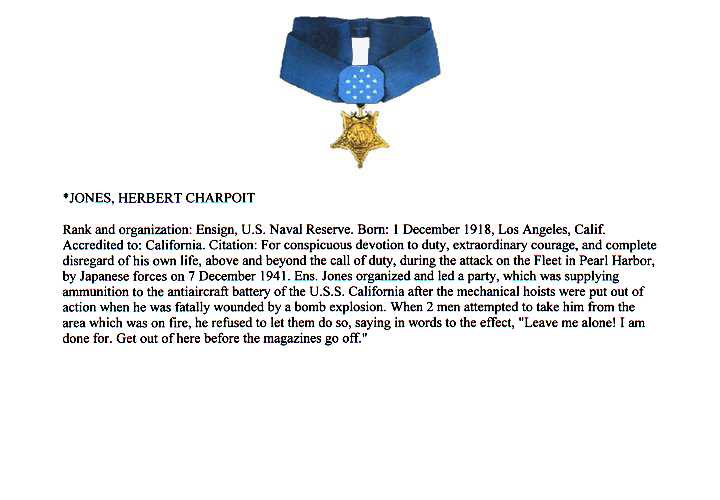 Throughout the 1930s, the United States' relations with Japan gradually eroded under the weight of competing economic and military interests. On September 18, 1931, Japan acted by seizing Manchuria with its vital resources of coal, iron, timber, and soybeans. Too weak to intervene militarily, the United States responded timidly by withholding recognition of Japan's actions in China. By mid-1940, the United States' attitude toward Japan had, however, hardened considerably. In July, Congress passed the two-ocean Navy bill and Franklin Delano Roosevelt placed an embargo on aviation fuel and some types of scrap iron. Further Japanese aggression led to an embargo on all trade with Japan, including oil, and the freezing of all Japanese assets in the United States.
Japan's decision to attack the United States was clearly influenced by these developments. Although the Japanese Imperial Navy stood 7:10 in a relative strength to the United States Navy in the summer of 1941, that ratio was expected to decline precipitously as the American construction program took effect. Furthermore, since Japan received almost 80 percent of its oil imports from the United States, the oil embargo was equally as serious a threat. Unless an alternative source of oil was acquired, the Japanese feared they would run out of oil within three years.
Realizing Japan did not have the economic resources to defeat the United States in a prolonged war, Commander-in-Chief of the Japanese Combined Fleet Admiral Yamamoto devised a plan to destroy the U.S. Pacific Fleet in a surprise attack using carrier aircraft launched at long range. Japan secretly launched its strike force on November 26, 1941. Its target was the U.S. fleet in Pearl Harbor. Although there was some advanced intelligence information that indicated the possibility of a surprise attack, the American forces in Hawaii were totally unprepared. The first wave, which struck at 7:55 a.m., was a complete success: all eight battleships were either sunk or damaged, and many of the aircraft were destroyed on the ground.
The crew of the USS California (BB-44) was making preparations for an admiral's inspection when the Japanese planes attacked. California, in the southern most position along battleship row, was the last of the battleships to be hit. Ensign Jones was leading a party to bring up ammunition for the anti-aircraft batteries when the magazine was hit by a bomb. This explosion fatally wounded Ensign Jones and killed 50 others. Rather than have his men risk their lives by trying to save him, he ordered them from the space and thus sacrificed himself for his men. Shortly thereafter, a second bomb ruptured the bow plates and, unable to restore the watertight integrity relaxed during preparations for the inspection, the ship settled onto the bottom leaving only the superstructure showing. Ninety-eight aboard California was killed and 61 were wounded.
- taken from Honor, Courage and Commitment: United States Naval Reserve Medal of Honor Recipients, Naval Historical Center