KERREY-JOSEPH
JOSEPH ROBERT KERREY

Rate/Rank
LTJG (SEAL)

SIGNIFICANT DUTY STATIONS
SEAL TEAM - NEAR NHA TRANG BAY, REPUBLIC OF VIETNAM 3/14/1969
SIGNIFICANT AWARDS
REPUBLIC OF VIETNAM CAMPAIGN MEDAL
SERVICE MEMORIES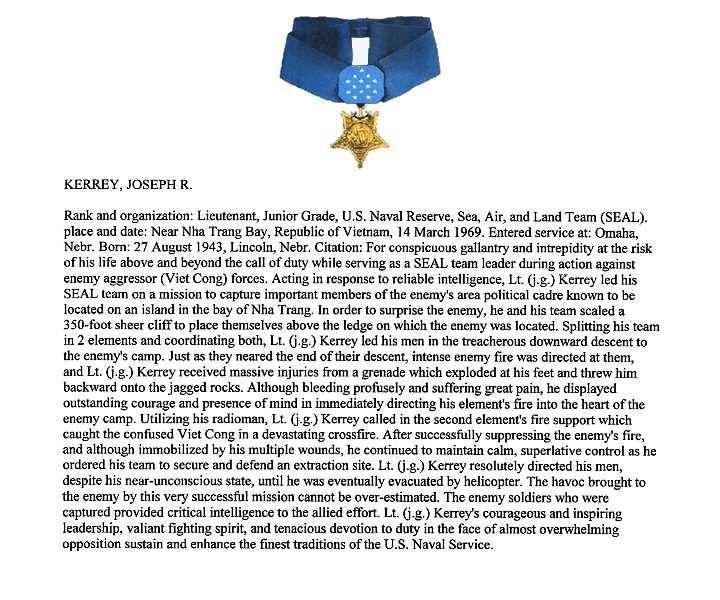 The growing reputation of the U.S. Army's Special Forces, the "Green Berets," in the late 1950s and early 1960s created pressure on the Navy and Air Force to organize similar special warfare units for use in counter insurgency, guerrilla warfare, and special operations. In January 1962, two Sea, Air, Land Teams (SEALs) were commissioned as Navy fleet tactical units and tasked with conduction naval special warfare. Formed with volunteers from Navy Underwater Demolition Teams (UDT), SEALs wre trained to operate beyond the high water line and into the enemy's territory. In addition to gathering intelligence, infiltrating enemy lines, and conducting clandestine activities, SEALs trained, assisted, and advised U.S. allies in the conduct of similar operations.
SEAL teams were introduced into Vietnam in early 1962. Their mission was to train South Vietnamese Coastal Force personnel in sabotage, reconnaissance, and guerrilla warfare. By 1969, SEAL Team I had three operational detachment assigned to Vietnam in support of these missions. Navy SEAL Teams remained in Vietnam until the U.S. withdrew in 1973.
Delta Platoon of SEAL Team I, led by Lieutenant Junior Grade Kerrey, was assigned to CTF 115, the Coastal Surveillance Group. The mission of CTF 115 was to stem the flow of arms and enemy forces that were infiltrating South Vietnam by sea. Intelligence sources reported that the communists had a significant reconnaissance unit operating from Ham Tam Island in Nha Trang Bay. Since the island was close to the coast and near several cities, this Viet Cong unit could gather significant data on the movement of U.S. and South Vietnamese forces and disrupt their operations. It was, therefore, crucial that this unit's activities be neutralized. Kerrey and his seven-man team, known as "Kerrey's Raiders," were tasked with this mission.
On the dark and moonless night of March 14, 1969, Kerrey and his men slipped ashore onto Ham Tam Island from a small skimmer craft, scaline a 350-foot rock cliff without the use of ropes. Their objective was to capture the leaders of the Viet Cong reconnaissance unit so that they could be interrogated. Any information that could be gleaned from them would be used to neutralize Viet Cong activities in the area. Coming upon the enemy undetected, Kerrey split his team into two elements so that his small force could cover the enemy from both flanks. Soon thereafter, Kerrey's group was detected by the enemy and a fire fight quickly broke out. Initially, the battle went against the Americans because the enemy had more troops than U.S. intelligence sources had been led to believe. During the battle, a grenade exploded at Kerrey's feet, severely wounding his right leg. Although he was bleeding profusely and immobilized by his wounds, Kerrey rallied his men and ordered the second element, which he had split off earlier, to attack the enemy from the flank. This maneuver caught the enemy off guard and they were routed. While a tourniquet was applied to his leg to stem the bleeding, Kerrey continued to control his unit's operations, coordinating both the collection of valuable enemy prisoners and the evacuation of the unit by helicopter.
- taken from Honor, Courage and Commitment: United States Naval Reserve Medal of Honor Recipients, Naval Historical Center