MODRZEJEWSKI-ROBERT
ROBERT JOSEPH MODRZEJEWSKI

Rate/Rank
COL

SIGNIFICANT DUTY STATIONS
3RD MARINE DIVISION, FMF, RVN 7/15/1966
COMPANY K, 3RD BATTALION, 4TH MARINES
SIGNIFICANT AWARDS
SERVICE MEMORIES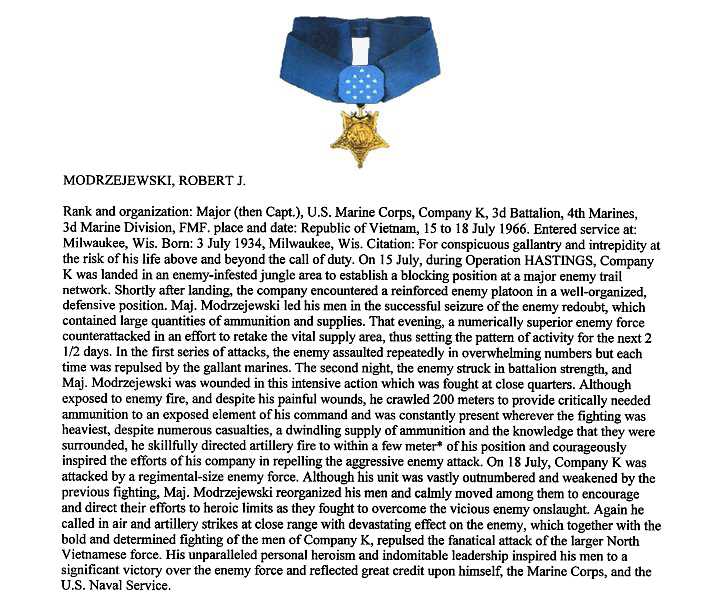 MEDAL OF HONOR RECIPIENT
Robert Modrzejewski was born on July 3, 1934 in Milwaukee, Wisconsin. He graduated from high school in 1953, followed by attendance at Wisconsin State Teachers College prior to entering the University of Wisconsin-Milwaukee where he earned a Bachelor of Science degree in Education. While at the University of Wisconsin he was a member of the Platoon Leaders Class and on graduation was commissioned a Marine Corps Reserve Second Lieutenant in June 1957. He was integrated into the Regular Marine Corps in May 1960. Upon completion of The Basic School at Quantico, Virginia, he then served as an instructor at The Basic School until the following May.
Modrzejewski was next attached to the 3rd Battalion, 3rd Marines, 3rd Marine Division, followed by assignment to Camp Lejeune. This was followed by service at Marine Corps Air Facility, New River, North Carolina, and then duty aboard USS MARCOS (LSD-25). Upon returning ashore he saw duty at the Marine Corps Recruiting Station, Cincinnati, Ohio, followed by assignment at Marine Corps School in Quantico. Ordered to Vietnam, he assumed duty as Commanding Officer of Company K, 3rd Battalion, 4th Marines, 3rd Marine Division. It was during this period, during Operation Hastings, that he distinguished himself above and beyond the call of duty — for which he was awarded the Medal of Honor. It was presented to him in a White House ceremony on March 12, 1968, by President Lyndon Johnson.
Upon his return to the United States in June 1967, he was assigned to the U.S. Naval Academy as Commanding Officer of the Marine Barracks. In January 1970, he entered the Armed Forces Staff College in Norfolk, Virginia, and completed the course the following June. He then reported to Marine Corps Air Station, Kaneohe, Hawaii, for duty. In 1976, Modrzejewski earned his Master's degree in Education from Pepperdine University in Los Angeles, California. He retired from the Marine Corps with the rank of Colonel in August 1986.
AWARDS AND MEDALS:
Medal of Honor
Purple Heart
Presidential Unit Citation
National Defense Service Medal
Vietnam Service Medal
Vietnam Cross of Gallantry Medal
Vietnam Campaign Medal
Submitted by CDR Roy A. Mosteller, USNR (Ret)