O'CALLAHAN-JOSEPH
JOSEPH TIMOTHY "FATHER JOE" O'CALLAHAN

Rate/Rank
CAPT (CHC)

USS O'CALLAHAN DE-1051 NAMED IN HIS HONOR
SIGNIFICANT DUTY STATIONS
USS FRANKLIN CV-13
NAVAL AIR STATION, PEARL HARBOR, HI
NAVAL AIR STATION, ALAMEDA, CA
USS RANGER CV-4
NAVAL AIR STATION, PENSACOLA, FL
SIGNIFICANT AWARDS
AMERICAN DEFENSE SERVICE MEDAL
ASIATIC PACIFIC CAMPAIGN MEDAL
WORLD WAR II VICTORY MEDAL
SERVICE MEMORIES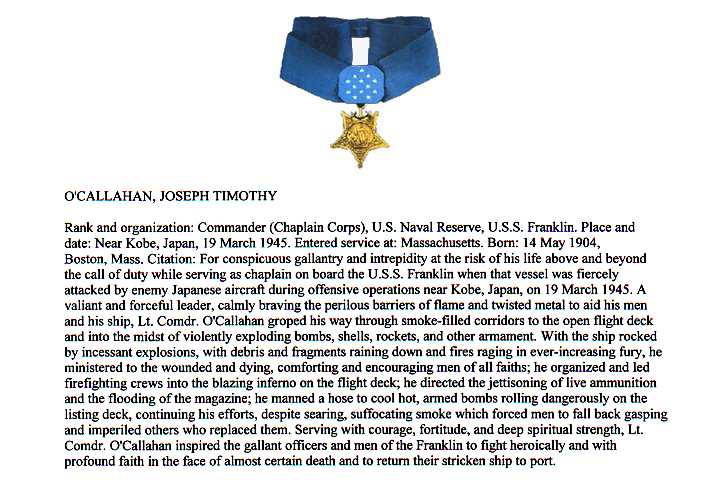 In March 1945, Allied forces were making plans to capture Okinawa. Located only 750 miles from Tokyo, Okinawa's harbors, anchorages, and airfields were needed for the planned invasion of Japan. But, since the Allied forces operating in the vicinity of Okinawa would also be well within range of Japanese fighters, bombers, and Kamikaze aircraft operating from the Japanese mainland, it was imperative that the Allied air forces destroy as much of Japan's air power as possible prior to the invasion.
Vice Admiral Marc A. Mitscher's Task Force 58 was tasked with carrying out the U.S. Navy's part in the air campaign. One of the ships assigned to TF-58 was USS Franklin (CV-13). Franklin had been in the Pacific since June 1944 and was a veteran of numerous air strikes and combat actions. She had been hit by both a bomb and three Kamikaze aircraft during operations off the coast of the Philippines and had only recently rejoined TF-58.
TF-58 commenced its operations against mainland Japan with strikes against airfields on Kyushu on March 18. The Japanese responded with Kamikaze attacks which hit Enterprise (CV-6), Yorktown (CV-10), and Intrepid (CV-11). The next day, TF-58 concentrated on naval bases in the Inland Sea. Franklin launched fighter sweeps against Honshu and a bomber strike against Kobe. The Japanese response was more effective this time: Franklin and Wasp (CV-18) were heavily damaged while Enterprise and Essex (CV-9) incurred less serious damage.
Franklin was hit when a lone bomber penetrated the formation and dropped two semi-armor piercing bombs on the ship. The first struck the flight deck and penetrated to the hanger deck, causing fires on the second and third decks. The second, which hit aft, penetrated two decks and started fires that ignited ammunition, bombs, and rockets. Only 50 miles off the coast of Japan, Franklin was left for dead in the water, listing 13 degrees to starboard, and engulfed in flames. The fires were eventually brought under control and the ship saved, but 724 sailors were killed and 265 more were wounded.
Two Medals of Honor were awarded to Franklin crew members for their efforts to save the ship. One of them went to Chaplain O'Callahan. When the bombs hit the ship, he was below deck. He groped his way through the smoke-filled passageways out onto the flight deck. There, in the midst of exploding ammunition and suffocating smoke, O'Callahan calmly organized and led fire parties at a critical juncture, directed the flooding of several ammunition magazines which were threatened by fire, and ordered the jettisoning of ammunition which endangered the ship. Throughout this ordeal, his cool demeanor encouraged and comforted the crew.
- taken from Honor, Courage and Commitment: United States Naval Reserve Medal of Honor Recipients, Naval Historical Center