PERKINS-WILLIAM
WILLIAM THOMAS PERKINS JR.

Rate/Rank
CPL

KILLED IN ACTION IN QUANG TRI PROVINCE, SOUTH VIETNAM.
SIGNIFICANT DUTY STATIONS
SERVICE COMPANY, HEADQUARTERS BATTALION
3RD MARDIV, III MAF
SIGNIFICANT AWARDS
NATIONAL DEFENSE SERVICE MEDAL
VIETNAM SERVICE MEDAL WITH 2 BRONZE SERVICE STARS
REPUBLIC OF VIETNAM GALLANTRY CROSS UNIT CITATION
REPUBLIC OF VIETNAM CIVIL ACTIONS UNIT CITATION
REPUBLIC OF VIETNAM CAMPAIGN MEDAL
SERVICE MEMORIES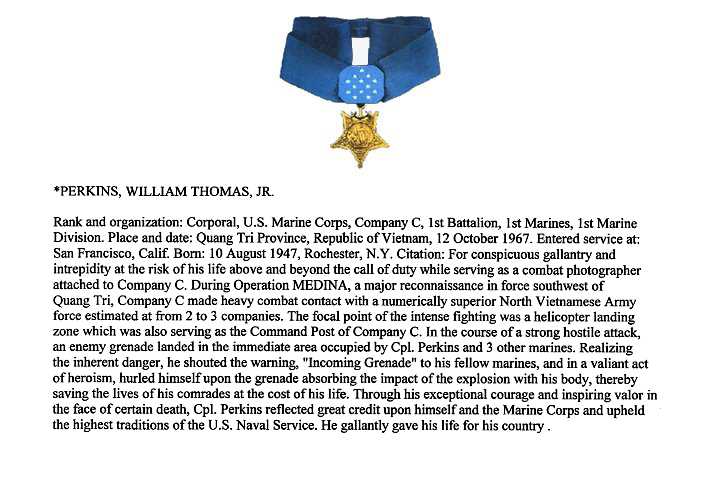 781511
William Thomas Perkins, Jr.
ONLY COMBAT PHOTOGRAPHER TO RECEIVE MEDAL OF HONOR
William Thomas Perkins, Jr., was born on August 10, 1947 in Rochester, New York. While in elementary school he moved with his family to California where he graduated from high school in Sepulveda, CA, in 1965. He enlisted in the Marine Corps Reserve in California on April 27, 1966, and was discharged to enlist in the Regular Marine Corps on July 6, 1966. Upon completion of recruit training at Marine Corps Recruit Depot, San Diego, he was promoted to private first class on September 22, 1966, and was transferred to Marine Corps Base, Camp Pendleton, where he underwent individual combat training. From October 1966 to January 1967 he served as a photographer with Headquarters Battalion, Marine Corps Supply Center, Barstow, CA. He was promoted to Lance Corporal on January 1, 1967 and for the next four months he was a student at the Motion Picture Photography, U.S. Army Signal Center and School, Fort Monmouth, New Jersey. In May 1967 he was transferred back to Headquarters Battalion, Barstow. In July 1967 LCPL Perkins served as a photographer with Service Company, Headquarters Battalion, 3rd Marine Division, and was transferred to the Republic of Vietnam. He was promoted to Corporal on August 1, 1967. On October 12, 1967, while serving as a combat photographer with Company C, 1st Battalion, 1st Marine Regiment, 1st Marine Division, during Operation Medina, he hurled himself upon an incoming grenade thereby saving the lives of his comrades at the cost of his own. For this act of valor he was posthumously awarded the Medal of Honor and is the only combat Marine photographer to have received this award. CPL Perkins is buried in the San Fernando Mission Cemetery in San Fernando, CA.
A letter to the editor in the October 2011 issue of the MILITARY OFFICER magazine published by Military Officers Association of America (MOAA) concerning CPL Perkins reads in part: CPL Perkins was killed in action on October 12, 1967. That unit was participating in Operation Medina in the Hai Lang National Forest, Quang Tri Province, Republic of Vietnam. CPL Perkins grabbed a North Vietnamese Army grenade that landed among five of us and covered it with his body, sacrificing his life for his fellow Marines (1STLT Jack Ruffer, and LCPLs Dennis Antal, Fred Boxhill and Mike Cole). /s/ MAJ Jack Ruffer, USMC (Ret).
Submitted by CDR Roy A. Mosteller, USNR (Ret)