PETTY-ORLANDO
ORLANDO HENDERSON PETTY

Rate/Rank
LT (MC)

SIGNIFICANT DUTY STATIONS
5TH MARINE REGIMENT, BOIS-DE-BELLEAU, FRANCE
SIGNIFICANT AWARDS
NAVY DISTINGUISHED SERVICE MEDAL
FRENCH CROIX DE GUERRE W/PALM
SERVICE MEMORIES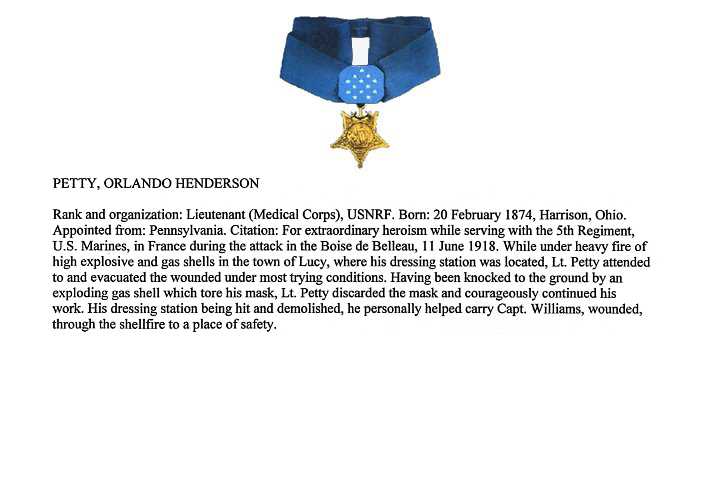 Although the United States' entry in the war on April 6, 1917 gave the Allies considerable cause for hope, that hope was tempered by the apparent military weakness of the U.S. Army. On December 31, 1917, almost nine months after the Americans' entry into the war, there were only 174,884 American troops in Europe. A few months later, in March 1918, the Germans launched a new offensive and achieved considerable success against the British, penetrating their lines more than 35 miles. Sensing the Allies' desperation, General Pershing, commander-in-chief of the American Expeditionary Force, offered American troops to the Allies wherever they were needed. With American help, the Germans were stopped in Picardy and Flanders.
The Germans had even more success against the French two months later. After capturing Soissons, the German Army advanced down the Marne River valley towards Paris. Demoralized French troops were falling back. Once again, American troops were rushed to the front. One of the American units thrown into the breach was the 5th Marine Regiment. The 5th Marines were part of the 2nd Division, which had recently rotated out of the trenches and was heading toward a training area northwest of Paris when the Germans struck. With the German Army driing toward Paris, the Marine Brigade was ordered to take up a position near Lucy-Le-Bocage along the Paris-Metz Highway on June 1. Over the next five days, the Marines repulsed a series of German attacks. On June 6, they counter-attacked. Their objective was Belleau Wood, an area of rough terrain, heavy woods, and sharply rising knolls. The Marines' effort was further complicated by inaccurate French maps of the area and faulty intelligence. Although the Marines were told the woods were lightly defended, they were held by a regiment of crack German troops. Working with rifles and bayonets, the Marines dug the well-concealed Germans out of their defensive positions. By the end of the day, the Marines consolidated their positions and fought off a series of counter-attacks.
On June 11, as the regiment began another assault on the woods, Lieutenant Petty's dressing station was hit by German artillery fire and gas shells. Although his gas mask was damaged when he was knocked to the ground by an exploding gas shell, Petty continued to provide aid to the wounded Marines in the aid station until he had to evacuate the positiom. At that point, he assisted a wounded officer through the artillery barrage to a position of relative safety.
Despite strong German resistance, the regiment captured the last portion of the woods under German control on June 23, 1918. For its part in the battle of Belleau Wood, the 5th Marine Regiment gained the grudging respect of the Germans, who named them the "Devil-dogs." The French Army went even further, renaming the woods "Bois de la Brigade de Marine."
- taken from Honor, Courage and Commitment: United States Naval Reserve Medal of Honor Recipients, Naval Historical Center