SITTER-CARL
CARL LEONARD SITTER

Rate/Rank
COL

SIGNIFICANT DUTY STATIONS
COMPANY G, 3D BATTALION, 1ST MARINES, 1ST MARINE DIVISION, KOREA
SIGNIFICANT AWARDS
MARINE CORPS GOOD CONDUCT MEDAL
SERVICE MEMORIES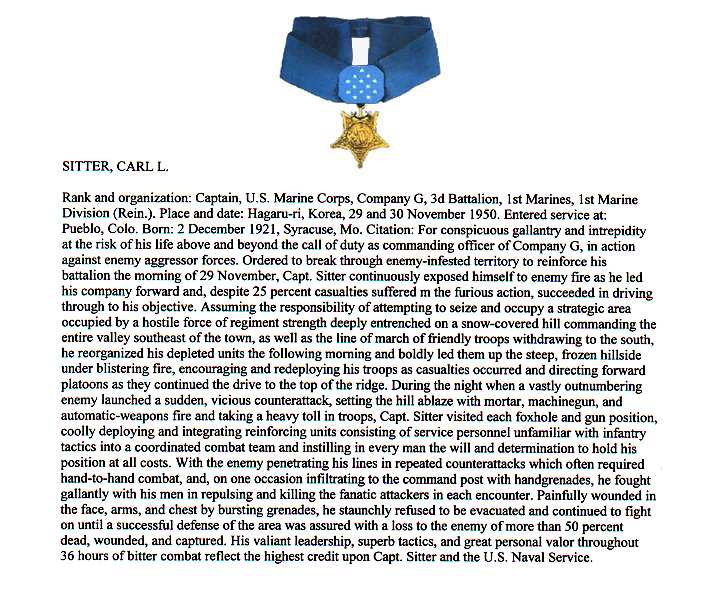 Carl Leonard Sitter was a man who enjoyed several careers.  Carl Sutter was 100% A MARINE.  Carl Sitter was a MAN OF WAR.  Carl Sitter was a MAN OF PEACE.  Carl Sitter was a Man of GOD.  Carl Sitter was a TRUE HERO.
He was born in Syracuse, Missouri, but grew up in Pueblo, Colorado.  After graduating from high school he enlisted in the Marine Corps in June 1940 and served eight months in Iceland before being ordered to the Pacific area.  He was serving as a CPL in the Wallis Islands in December 1942 when he was given a field commission as a 2NDLT in the Marine Corps Reserve.  He later received a regular commission.  He was in combat on Eniwetok and Guam, and was first wounded in February 1944 on Eniwetok but went back into action almost immediately.  He was wounded again in July 1944 on Guam.  While shouting encouragement to his troops they were driven to the ground by enemy gunfire.  Realizing this would be fatal for all of them if they remained there, he rose to attack the enemy but almost immediately was driven back to the ground by a horrible blow to the chest.  His instant thought was that he had been shot in the heart but as his head cleared he came to the amazing realization that the torn, cold steel he felt on his chest was the shattered remnants of the .45 pistol holstered below his left shoulder.  It had taken the direct impact of the enemy round and saved his life.  Surging to his feet with a yell he again began the attack and was soon hit in the soft flesh of his shoulder by enemy rounds.  Though painful the wounds were not fatal and for his heroic leadership that day he was awarded the Silver Star after again refusing to leave his troops. 
In November 1950, then-CAPT Sitter was wounded during bitter fighting during a two-day battle at Hagaru-ri near the Chosin Reservoir in Korea.  He was awarded the Medal of Honor for leadership during this action in which he received painful wounds but staunchly refused evacuation and continued to lead his troops until the battle was over.  During this action he remembered being asked by a young Marine who felt they were in a hopeless situation, What are we going to do?  He remembers growling in reply, What are you going to do?  You're gonna fight, damn it!  You gotta fight or we aren't getting out of here.  It gets that simple.  After 30-years, COL Sitter retired from the Marine Corps in June 1970, went to work for the Virginia Department of Social Services and retired from this in 1985. 
As a teen Sitter's grandfather was a Presbyterian minister and he had grown up in church only to drift away for a time.  COL Sitter has said that his Marine career took him to the brink of Hell and taught him the importance of God, although by his own admission, he didn't think much about God.  As a leader of Marines in combat, the lessons of his early days in church and the words of his grandfather began to take on a new importance.  That's when I started getting close to God he said during an interview.  He also said it was also when he learned the importance of protecting the heart and during combat in Korea he always wore a shoulder holstered .45 pistol, for it was the pistol covering his heart that saved his life at Guam.  After years of lay-ministry in his home church, in 1998 at the age of 75, he returned to college to study for the ministry at Union Theological Seminary and Presbyterian School of Christian Education.  He graduated in May 1999.  He has been praised as a great leader, a man of strength, yet humble, and a man who never took himself or his hero status too seriously, but was always concerned with the needs of others.  His pastor once remarked that COL Sitter showed up rather sheepishly for church one Sunday to ask if it were possible for the pastor to arrange a substitute teacher for his Tuesday night Bible Class as the White House had invited him to dinner.
Several quotes attributed to COL Sitter:
War doesn't accomplish what it sets out to do.  What it does is destroy people on both sides, and it takes many years to get back what we destroyed.  We don't really win anything by war.
I'm a realist.  I have a view of war as a last resort.
I guess that's why I'm going back to school, to learn more about the Lord and to use that knowledge to help all people.  God says we're to love everybody.
COL Sitter died on April 4, 2000, in Richmond, Virginia, and was buried in Arlington National Cemetery.
Medals and Awards:
Medal of Honor
Silver Star
Legion of Merit
Purple Heart with two gold stars
Presidential Unit Citation with one bronze star
Navy Unit Commendation with one bronze star
Marine Corps Good Conduct Medal
American Defense Service Medal
American Campaign Medal
Asiatic-Pacific Campaign Medal with two bronze stars
World War II Victory Medal
National Defense Service Medal with one bronze star
Korean Service Medal with four bronze stars
United Nations Service Medal
Chungmu Cordon Medal
Republic of Korea Presidential Unit Citation with one award star
Submitted by CDR Roy A. Mosteller, USNR (Ret)